Wild dolphins
Ambassador dolphins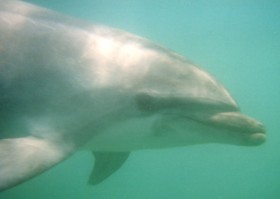 Over the past 20 years I visited a few so-called ambassador dolphins: animals which leave their pod to live in a port, harbour or bay, and who do not shy away from contact with humans and pets.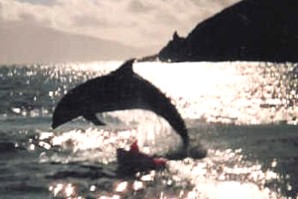 Amongst the animals I visited were Fungi the Dingle Dolphin (1989, 1990 and 1991)
Musician and artist Julian Cope dedicated a song to Fungi in 1990 (Island Records). You might recognize the person playing the trumpet in the videoclip!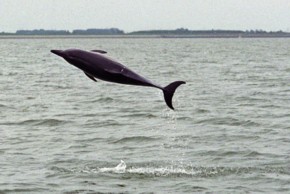 More recently in the Netherlands, I tracked down Wesley of the Westerschelde with the help of Martijn de Jonge. He took this picture.
Martijn de Jonge is a professional wildlife photographer, and he has taken many beautiful pictures of cetaceans in both Dutch and international waters. Visit his website for more eyecandy: www.martijndejonge.nl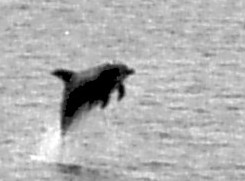 I do not have a tele-lens but managed to capture a jump by bottlenosed dolphin Toto of Tholen (2008). I wrote an article on Ambassador's dolphins for the Dutch Diving Association NOB in the June-2009 issue.
Because the filesize is too large for this site, send an email to Dit e-mailadres wordt beveiligd tegen spambots. JavaScript dient ingeschakeld te zijn om het te bekijken. if you'd like a PDF.
For more information on (especially) Irish ambassador's dolphins see www.irishdolphins.com and www.janploeg.nl an follow his adventures on http://www.youtube.com/user/dustydolphinman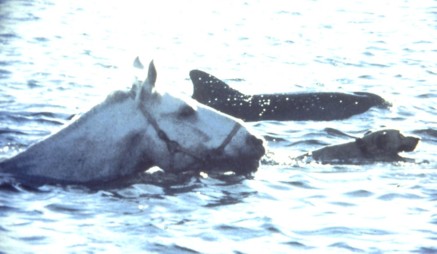 back to the main page on dolphins
Wild dolphins and whales in Europe

Atlantic spotted dolphins off La Gomera (Spain)
Dolphins and whales can be found anywhere in Europe -
even in our North Sea we have about 15 species!
More famous are the Canary Isles (26 species) and that's where
I went after high school, from june 1995-june 1996.
That year I was a tourguide on Whalewatching trips from the Bonadea II,
a very nice catamaran sailing daily from Puerto Colón in Playa de las Americas (Tenerife).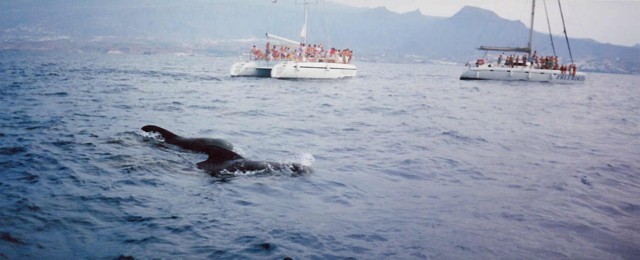 shortfinned pilot whales with tourist boats

After 10 months I moved to the isle of La Gomera, where Bernd Brederlau from
Club de Mar offered me kindly to join him each day on whalewatching trips.
We both gave information to the (mostly German) tourists and
took an enormous amount of pictures and film.

The website of 'MEER', from biologist Fabian Ritter and colleagues, has more information on whalewatching in the Canaries and links to articles which have been published about the resident populations.
Fabian has done great work on especially the rough-toothed dolphins in the area.
You can find more of his scientific papers through this link.
Bernd and I made a film of approx. 40 minutes and a part of this was shown on the ZDF (German television) in 2004, a very nice sequence of two adult shortfinned pilot whales courting eachother while a calf was (gently) trying to sabotage the courtship.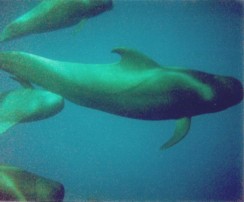 shortfinned pilot whales

As soon as I find out how I can post a minute or so of this film on verkademeisje.nl,
I'll let you know!


Some more pictures of the Canary Isles species.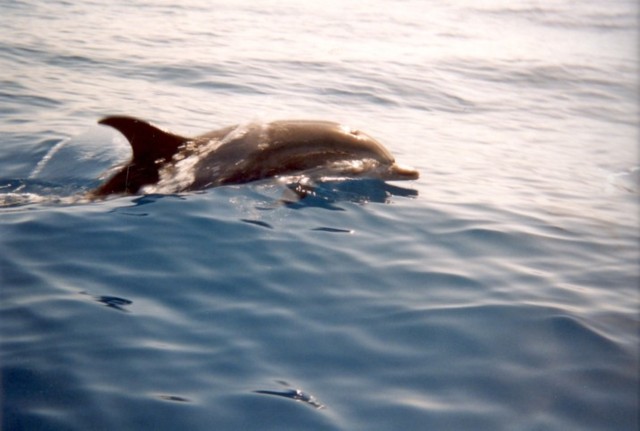 Atlantic spotted dolphin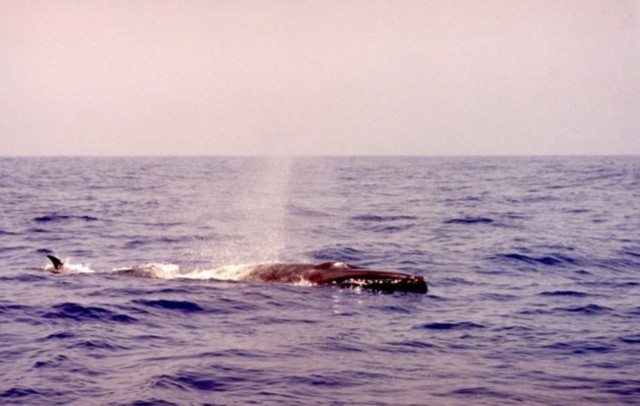 fin whale (photo by Piti)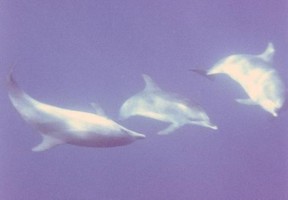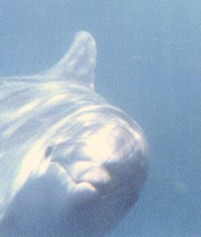 Atlantic spotted dolphins and a bottlenosed dolphin
back to the dolphins and whales frontpage